Within this Laboratory we will establish a nationwide network for distribution of ultra-stable time and frequency reference signal from the optical atomic clock operating at the National Laboratory of Atomic, Molecular and Optical Physics in Toruń (KL FAMO). The signal will be distributed using optical fiber connections thanks to the ultra-stable laser system coupled with the Polish Optical Atomic Clock. The ultra-stable optical frequency will make it possible to transfer signals generated by optical atomic clocks to Polish metrological centers (Poznań, Warsaw, Wrocław, Kraków) and to attain a significant enhancement in accuracy of the frequency standards, as compared to presently used standards based on radio-frequency atomic clocks. The distribution system will form one of the largest optical-clock-based time-and-frequency referenced networks worldwide. The capabilities for connections to neighbouring countries will enable further expansion of the system.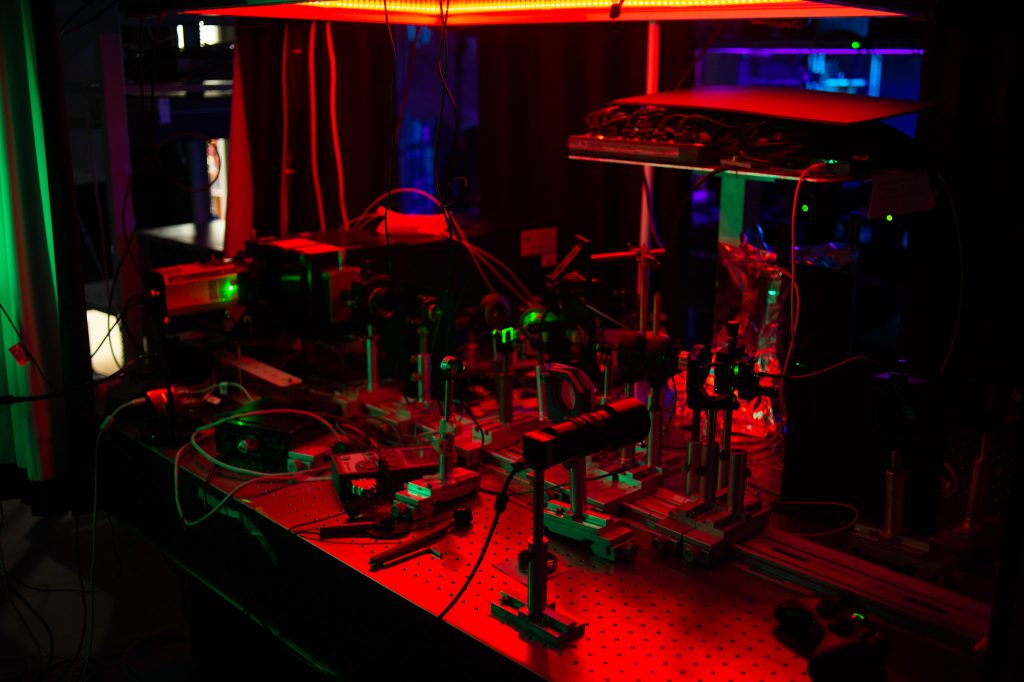 Ultra-stable frequency signals are widely applied in many fields, in particular, in telecommunication (synchronization) or navigation (e.g. the GPS system). Generation of frequency signals using optical cavities makes it now possible to achieve short-duration stability, which is better by about four orders of magnitude in relation to hydrogen masers [1], and with frequency combs, it enables use of signals not only in the optical domain, but also in the radio frequency domain. Within the framework of the "National system for generation and distribution of the reference optical carrier", an ultra-stable laser system will be developed, which may be coupled with the optical atomic clock, along with a distribution network based on optical fiber connections [2]. Such signal could immediately be used by many metrological and research centers, and in the course of technological progress, it could also be applied by such industries as telecommunication, banking or the power industry.
Ultra-stable optical frequency distribution makes it possible to transfer signals generated by optical atomic clocks at KL FAMO to such Polish metrological centers as the Central Office of Measures (GUM) or the Space Research Center of the Polish Academy of Sciences. This will result in substantial enhancement of accuracy of the presently used standards (including cesium fountains), thus improving the time scales generated. Availability of this type of signal in Poland seems necessary due to the redefinition of the second in the International System of Units.
The infrastructure purchased will also make it possible to conduct global-standard research in generation of optical frequency combs on the basis of optical fiber lasers, their stabilization with reference to the standard optical signal available in the distribution network, and using the combs in broadly understood spectroscopy, metrology and scientific research. This will enable engagement in entirely new fields of science, characterized by tremendous commercialization potential, at the same time improving substantially the scientific quality of works conducted at present. It will be possible to provide the industrial partners with new solutions in spectroscopy and ultra-precise spatial and time/frequency based metrology.
D. G. Matei, T. Legero, S. Haefner, C. Grebing, R. Weyrich, W. Zhang, L. Sonderhouse, J. M. Robinson, J. Ye, F. Riehle, U. Sterr, 1.5  μm Lasers with Sub-10 mHz Linewidth, Phys. Rev. Lett. 118, 263202 (2017).
C. Lisdat et. al, A clock network for geodesy and fundamental science, Nat. Commun. 7, 12443 (2016).